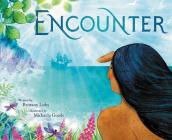 $18.99

Not in stock but may be ordered. Subject to Publisher Availability.
Description
---
A powerful imagining by two Native creators of a first encounter between two very different people that celebrates our ability to acknowledge difference and find common ground--with art by New York Times bestselling illustrator and Caldecott Medalist Michaela Goade

Based on the real journal kept by French explorer Jacques Cartier in 1534, Encounter imagines a first meeting between a French sailor and a Stadaconan fisher. As they navigate their differences, the wise animals around them note their similarities, illuminating common ground.

This extraordinary imagining by Brittany Luby, Professor of Indigenous History, is paired with stunning art by Michaela Goade, winner of 2018 American Indian Youth Literature Best Picture Book Award. Encounter is a luminous telling from two Indigenous creators that invites readers to reckon with the past, and to welcome, together, a future that is yet unchartered.

About the Author
---
Brittany Luby (Anishinaabe-kwe) is is the author of several acclaimed books including Mii maanda ezhi-gkendmaanh / This Is How I Know, illustrated by Joshua Mangeshig Pawis-Steckley. She is the many great-granddaughter of Chief Kawitaskung, a leader who negotiated the North-West Angle Treaty of 1873. With a pen stroke, Kawitaskung agreed to share parts of what is now northwestern Ontario with settlers and their descendants. Because of her many great-grandfather, Brittany believes that words are a powerful tool. Brittany writes for social justice and is an assistant professor of history at the University of Guelph in Canada.

Michaela Goade (Tlingit) is a Caldecott Medalist and a #1 New York Times bestselling artist. She is the illustrator of a number of award-winning and bestselling books, including We Are Water Protectors by Carole Lindstrom and her own Berry Song. She is from the Raven moiety and Kiks.ádi clan from Sitka, Alaska, where she currently lives. She invites you to visit her online at michaelagoade.com.
Praise For…
---
*"...needs to be shared."—School Library Connection, starred review

"Luby's (Anishinaabe) creative reimagining of historical events is brought to life by Goade's (Tlingit) vibrant multimedia illustrations, which weave Fisher and Sailor brilliantly into their jewel-toned surroundings."—Kirkus

"The illustrations are gorgeous and achingly rendered. The author, Brittany Luby, is of Anishinaabe descent and the illustrator, Michaela Goade, is Tlingit. Together they have created a standout."—New York Times Book Review

"Eye-catching illustrations and a low-key but thought-provoking story could stimulate group sharing about ways we interact with people from other cultures."—Booklist
Coverage from NPR