Me: A Compendium: A Fill-in Journal for Kids (Wee Society) (Diary)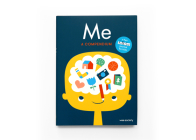 $15.99

On Our Shelves Now - Subject to Availability.
Description
---
Inventive, hilarious and joyously colorful, this fill-in journal was designed to help kids capture nearly everything that's uniquely rad about them.

With design-savvy, yet completely kid-friendly illustrations, they're asked to draw or write about a bunch of interesting things—like what their hair looks like, what their band name would be, what they'd bring to outer space, and how they feel about lightning, lizards and pickles. There may or may not be a place for super-secret stuff inside the book jacket. Whether kids complete their entire compendium on a rainy day, or finish it over a year, it'll become a treasure to look back on and smile. 

Ideal for the holidays, rainy days and happy occasions of all kinds, this is an imagination-building gift will engage kids for hours on end!
About the Author
---
WEE SOCIETY is an award-winning creative studio that believes you're never too young to develop an eye for design. They aim to spark kids' imaginations, leading to big bright explosions of creativity. And they're pretty sure uncontrollable giggles make the world better. With this in mind, Wee Society has created kids' apps (available in the App Store), books, art prints, toys and still-secret stuff. Their work has been honored by the Parents' Choice Foundation, Webby Awards and other nice folks.