The Great Wall Through Time: A 2,700-Year Journey Along the World's Greatest Wall (DK Panorama) (Hardcover)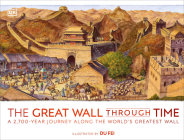 $21.99
Email or call for price.
Description
---
Travel through time on an exhilarating expedition to China's most famous landmark!

The Great Wall of China is one of the world's most intriguing, well-known treasures. Spanning 2,700 years and over 13,000 miles long, embark on the fascinating tale of how the Great Wall was built and how it became one of the greatest man-made projects of all time.

This thrilling children's book about this fascinating structure will leave you with newfound knowledge and appreciation for this amazing world wonder. It includes:

   • Exquisitely detailed panoramic artworks that show how the Great Wall of China has changed from one era to the next — from the first defensive forts created in 656 BCE to the 13,000 mile-long monument still standing today
   • Cutaway views that reveal the interior of forts and buildings
   • Every illustration is surrounded by pull-out details for children to look at, drawing them into the picture and making the book fun and interactive
   • Lively, engaging narrative text and simple annotations that guide children on a journey through time

This informative book educates young readers about how the Great Wall was built and showcases the people that help build it. The wall, one of the new Seven Wonders of the World, started as a frontier defense against northern tribesmen and over the eras evolved to become the dynamic landmark that it is today.

This educational history book also contains exceptional cutaway views revealing the interiors of important buildings, and pull-out details introducing fascinating facts and key characters. The time-traveling fox who appears in the artwork will have children inquisitively searching for the charming fox throughout the book.

This makes for the perfect gift or collector's item for children age 7 and up to learn about the Great Wall of China and its history. It is also perfect for parents looking for books on Chinese history to read with their children, and those planning on visiting the Great Wall of China who want to learn more about the landmark before or after their trip.
About the Author
---
Du Fei (born in Beijing, China) has 25 years of experience as a professor in the Mural Painting Department of the Central Academy of Fine Arts, Beijing. A nationally renowned artist, he specializes in painting realistic works that tell the story of Chinese history and traditional culture. He has won awards at the National Fine Arts Exhibition (the most prestigious arts awards ceremony in China) and the National Mural Exhibition in China.