The Great Thanksgiving Escape (Paperback)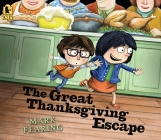 $6.99

On Our Shelves Now - Subject to Availability.
Description
---
"Kids will identify, and parents will reminisce. . . . A holiday offering that definitely makes a fun all its own." — Kirkus Reviews

It's another Thanksgiving at Grandma's. Gavin expects a long, boring day full of pesky toddlers, but his cousin Rhonda has a different idea: make a break for it to the swing set in the backyard! Gavin isn't so sure, especially when they encounter vicious guard dogs (in homemade sweaters), overly affectionate aunts, and worst of all, the great wall of butts. Can they avoid all the obstacles and find some fun before turkey time?
About the Author
---
Praise For…
---
Fearing finds laughs in the uncomfortable truth that for a lot of people — children included — family holiday gatherings are the opposite of fun.
—New York Times Online

Playing with perspective, Fearing's digitally created cartoons show long lines of pantyhosed legs and an aerial shot of outstretched manicured hands reaching for a hug. Funny play-by-play running commentary describes the action as it unfolds. ... Expect requests for second helpings of this holiday treat.
—School Library Journal

Graphic novelist and illustrator Fearing's first solo picture book, based on his memories of Thanksgivings past, is a hoot for all ages. Kids will identify, and parents will reminisce. The digitally manipulated colored-pencil illustrations from a kid's-eye view layer the humor on an exaggeratedly goofy text. A holiday offering that definitely makes a fun all its own.
—Kirkus Reviews

Fearing revels in his portraits of cinematically exaggerated horrors like the "Hall of Aunts!" ("We'll be pinched and smothered for sure!" cries Rhonda) and a basement full of teenage "zombies" staring at their digital devices. Rhonda's advice to Gavin—"Sometimes you have to make your own fun"—will serve readers well on Thanksgiving Day or any time of year.
—Publishers Weekly

Bold, digitally touched pencil illustrations follow the characters through the gauntlet of holiday terrors, from pinching, snuggling aunts to the (allegedly) booby-trapped but so- wonderful-smelling food in the kitchen. Filled with humorous dialogue and with surefire read-aloud appeal, this will easily find an appreciative audience—especially among those who are, like the characters, too old to play with the little kids and too young to play with the big kids.
—Booklist

With their odd angles and unusual perspectives, the digital and pencil caricature illustrations ... capture the claustrophobia—and, for imaginative kids, the diverting possibilities—of a large family gathering.
—The Horn Book

A wonderful kid's-eye view of Thanksgiving. ... Fearing's work has an appealing edginess that resonates with kids, and he's a careful observer of telling detail, which adds to the enjoyment.
—Star Tribune