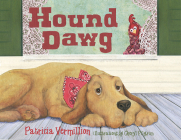 $21.95
Email or call for price.
Description
---
Hound Dawg is a retelling of The Little Red Hen, southern style. Bessie, Calico, and Penny work their fingers to the bone down on the cotton farm.
But Hound Dawg, he's a couch potato . . . lazy, lazy, lazy.

Hold on now . . . something has caught Hound Dawg's eye . . . something that changes his life forever.
About the Author
---
PATRICIA VERMILLION, librarian at The Lamplighter School in Dallas, is the author of Texas Chili? Oh My! and ¿Chili Texano? ¡Ay Dios!, which received a Publication Award in 2015 from the San Antonio Conservation Society. CHERYL PILGRIM is a writer, illustrator, and former art teacher. She works in a variety of media including pencils, watercolors, oils, acrylics, and collage papers.