The Big Island: A Story of Isle Royale (Hardcover)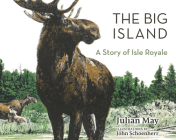 $17.95
Email or call for price.
Description
---
First published in 1968, this engrossing and beautiful picture book about wildlife on Isle Royale is available again

Isle Royale, "the big island" of this book, is a wilderness national park in Lake Superior and home to a unique and fascinating ecosystem of animals, most notably the iconic wolf and majestic moose. Here is author Julian May's story about the island's beginning, the kinds of animals that came to populate it, and their effects on the pristine landscape. Among them were the moose, who swam to the island from the distant shore to fend off starvation. The moose found conditions on Isle Royale so favorable that they reproduced quickly—but then faced another food shortage. The wolves arrived by floating to the island on an ice floe in winter and soon became important to the island's ecology as successful predators of the moose. 
Complementing this fascinating text, John Schoenherr's magnificent illustrations convey the strength of these animals and the beauty of the island that is their home.
First published in 1968, and reprinted here with a new note by renowned wolf expert L. David Mech, The Big Island is an enchanting introduction to the wilderness and wildlife of Isle Royale. 
About the Author
---
Julian May (1931–2017) was a popular writer of science fiction, fantasy, horror, and children's books. She is best remembered for her Saga of Pliocene Exile and Galactic Milieu series books. Between 1956 and 1981 she wrote more than 250 science and sports nonfiction books for children and young adults.
John Schoenherr (1935–2010) was a prolific illustrator of science fiction and children's picture books. He won the 1988 Caldecott Medal for his illustrations to Owl Moon by Jane Yolen. He was posthumously inducted into the Science Fiction and Fantasy Hall of Fame in 2015.