She Spoke: 14 Women Who Raised Their Voices and Changed the World (Hardcover)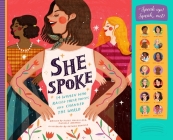 $24.99

On Our Shelves Now - Subject to Availability.
Description
---
When the world tells you to stay quiet, do you listen, or do you speak up? In She Spoke: 14 Women Who Raised Their Voices and Changed the World, with the touch of a button readers can hear Dr. Mary McLeod Bethune, Dolores Huerta, Dr. Maya Angelou, Dr. Jane Goodall, Shirley Chisholm, Susan Shown Harjo, Hillary Rodham Clinton, Leymah Gbowee, Dr. Temple Grandin, Justice Sonia Sotomayor, Tammy Duckworth, Dr. Joanne Liu, Abby Wambach, and Malala Yousafzai.  
Through succinct profiles, stunning portraits by illustrator Kathrin Honesta, and the original voices of these women, She Spoke will inspire readers of all ages to share their own truths and change the world.
About the Author
---
Kathy MacMillan is a nationally certified American Sign Language interpreter, writer, teacher, librarian, and storyteller. She is the author of the board books Nita's First Signs and Nita's Day (Familius), children's nonfiction book She Spoke: 14 Women Who Raised Their Voices and Changed the World (Familius), the young adult novels Sword and Verse and Dagger and Coin (HarperTeen), and nine books for parents, librarians, and educators, including Little Hands and Big Hands: Children and Adults Signing Together (Huron Street Press).
Manuela Bernardi is a film and TV writer based in Rio de Janeiro, Brazil, where she was born and raised. She has collaborated on award-winning feature films and has written on shows for TV Globo, TBS, GNT, Multishow, and the History Channel. Her screenplay for the short film
The Healing Tree
won USC's Peter Stark Special Project grant and went on to be selected for Cannes's Short Film Corner. With a BA in journalism from PUC-Rio, Manuela got her MFA in writing for screen and television from USC in Los Angeles, which she attended on a Fulbright/CAPES scholarship.
Kathrin Honesta is an illustrator based in Jakarta, Indonesia. She illustrates for projects such as advertising campaigns, branding, albums, book covers, and picture books. She has worked with local and international clients such as Samsung, Prudential, HarperCollins, Penguin Random House, Scholastic Asia, and Holiday House Books.
Praise For…
---
"Having access to these women's voices, to literally hear them saying their iconic and critical words creates a magical connection between readers and these women, and I've never seen (well, heard) anything else like it."- Ciarra Chavarria; @girlsreadtheworld, NBC News, Know Your Value Blog
"
The creators offer an appealing package with the book's puffy cover, interactive features, and Honesta's vibrant portraiture... The selected women represent only a tiny fraction of outspoken women from history, but the authors' selections are sound and serve as an invitation to readers to discover more."
-
Publishers Weekly
Introductions to 14 women activists, with an audio feature that allows readers to literally hear what they had to say.
The roster opens with Mary McLeod Bethune, speaking of bridges and "brotherhood" in 1955. It goes on to pay respects to a mix of eminent role models (all but three still living), from Maya Angelou and Jane Goodall to Nobel Peace Prize winners Leymah Gbowee and Malala Yousafzai, disabled veteran and recently elected senator Tammy Duckworth, and Native rights activist Suzan Shown Harjo, a founding "director" (actually, trustee) of the National Museum of the American Indian. Each single-spread entry includes a career overview, a stylized but recognizable full-page painted portrait, provocative questions addressed to readers ("What skill do you have that you could teach the people around you?" "Do you think you have an obligation to help those who need it?"), and a transcription of the accompanying sound clip. The last is helpful, as the clips, which are taken from speeches or interviews, run from around 15 to 30 seconds each, and are keyed from a side-mounted touch pad, vary in clarity. The words are all inspirational, and so are the stories. Better still, as examples for budding activists, along with the predictable recitations of jobs, honors, and successes, the overviews often acknowledge failures, cannily characterizing them as first steps or as means to some greater end.
A chorus of voices for justice and change, diverse alike of identity and cause. (further reading) (Novelty/biography. 8-12)
- Kirkus Reviews