Rolling Warrior: The Incredible, Sometimes Awkward, True Story of a Rebel Girl on Wheels Who Helped Spark a Revolution (MP3 CD)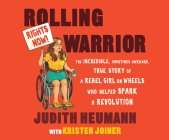 $24.99
Email or call for price.
Description
---
As a young woman, Judy Heumann rolled her wheelchair through the doors of the U.S. Department of Health, Education and Welfare in San Francisco and demanded the implementation of Section 504 of the Rehabilitation Act of 1973, which protected the rights of all people with disabilities. But before that, Judy was a kid making her way through a school system that wasn't designed to include people with disabilities. Paralyzed from polio and raised by her Holocaust-surviving parents, Judy's drive for equality was instilled early in her life. She was barred from starting kindergarten with her friends because the principal deemed her a fire hazard and had to be homeschooled until her parents found a program for disabled kids. She then fought her high school when they initially denied her a diploma because of her inability to participate in gym, and she fought her college when she was described as a fire hazard once again. This young-readers edition of her memoir offers an introduction to the disability-rights movement through the lens of her life. It centers on the universal yearning for connection and belonging that all young people experience as they navigate the trials of adolescence and shows young people that they have the power and strength to demand equal access in an unequal world. Fast-paced and engaging, it is a powerful story of fighting for what you deserve and is a must-listen for anyone with a passion for activism and equal rights.