Animals in the Sky (Board book)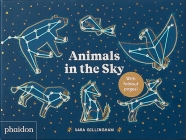 $12.95

Not in stock but may be ordered. Subject to Publisher Availability.
Description
---
A graphically stunning introduction to constellations for the youngest readers, following the meteoric rise of global bestseller Seeing Stars
This stylish, informative board book helps younger children identify six of the most recognizable animal constellations from The Great Bear to the The Southern Fish. Each constellation is introduced as a cluster of stars with its connected-line shape; readers then guess the animal through a series of read-aloud clues. A full animal illustration gatefold reveals the answer, accompanied by extra information about the constellation and its important stars. Perfect for bedtime stargazing!
Ages 2-4
About the Author
---
Sara Gillingham is an award-winning art director and designer. She was the design director for children's publishing at Chronicle Books and taught at UC Berkeley and California College of Arts. In addition, she has written and/or illustrated several books for children. She lives with her family in British Columbia, Canada.
Praise For…
---
"You might think that astronomy would be too advanced a subject for children of board book age, but in fact this is done so nicely that it's as much about guessing animal shapes as learning about the stars."—BookTrust
"Cleverly constructed board book and a beautifully visualised introduction to the stars."—LoveReading4Schools
"...The illustrations will be useful for any young person scanning the night sky in search of distinctive star arrangements."—The Wall Street Journal
"Sara Gillingham introduces the youngest stargazers to twenty animal constellations that will pique their interest in astronomy and all things space related... Fun to share for nighttime star gazing and as a spark for lessons on astronomy, science, space, history, and mythology. The book would make a beautiful gift for new babies, baby showers, new little siblings as well as a go-to favorite for home, school, and public library collections."—Celebrate Picture Books
"This gorgeously designed board book brings together animals and the night sky to encourage curious kids to turn their eyes to the constellations above them. The perfect mix of illustrations and facts to keep young minds engaged, this is an ideal book to gift!"—Politics & Prose
"Exceptional nonfiction for kids. Riddles prompt kids to guess the animal in the constellations then check to see if they're right with lift-the-flap answers and more information… The white and gold text and illustrations pop out off the page."—Imagination Soup