One Day On Our Blue Planet: In The Antarctic (Hardcover)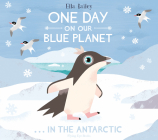 Not available for order.
Special Order - Subject to publisher availability.
Description
---
From breakfast to dinner, dusk to dawn, children will love spending the day with this curious penguin chick.

In the latest volume of Ella Bailey's picture book exploration of the daily lives of baby animals, we head to the ice shelf to meet a young penguin chick. What does she and her family eat? How many brothers and sisters does she have? What do they do for fun?
About the Author
---
Ella Bailey is an illustrator and writer who focuses on creating charming characters and character-based illustrations, particularly for stories and children's books. Bailey's style is playful and engaging, resulting in stories that are charged with imagination and will undoubtedly captivate any young reader. She lives in Nottingham.
Praise For…
---
"Part of a stylish new illustrated series devoted to the daily lives of young animals […] Bailey covers the basics in a tone that's informative but delighted by the improbabilities of penguins. Her friendly, big-eyed creatures look as if they're having a blast."
—The New York Times

"Illustrator Ella Bailey's sweet and lively introduction to the creatures that inhabit the wild and remote Antarctic is filled with a surprising variety of species. […] Kids will have fun following the Adélie penguin chick's adventures in the Antarctic Ocean."
—American Scientist, STEM Books for Young Children

"This lovely follow-up to In the Savannah (2015) continues a promising series introducing ecosystems to very young readers and listeners. […] An appealing introduction to Antarctica that appropriately fosters a child's sense of wonder without adding a layer of worry about its future."
—Kirkus Reviews

"Every glorious double-page spread is in full color, showing animals hunting for food and exploring their surroundings. Vibrant drawings on the endpapers identify 19 birds above the Antarctic ice and 17 mammals and fish below. Children will have fun finding these species as the chick encounters them in this excellent introduction to this polar region."
—Booklist

"Bailey's crisp, posterlike images evoke midcentury children's books while capturing a sense of polar magic in watery spreads full of orcas, petrels, seals, and other creatures. "
—Publisher's Weekly

"This is the way all science should be taught. […] One Day on Our Blue Planet … in the Antarctic is an absolute winner. The illustrations are stunning. […] It won't be us who will stop global warning. It'll be our kids. A book like this, so beautifully describing a world that needs saving, might be just the thing to convince them to do it."
—The Globe and Mail

"Adorable, child-friendly, cartoony illustrations introduce us to all sorts of sea life, including a warty squid porpoise, Antarctic krill, leopard seal, and humpback whale. This is a fun introduction to the Antarctic for young audiences, with an animal kids already love: Penguins!"
—Books For Kids